Ever get tired of scrolling through pinterest seeing unicorn cake after unicorn cake? Oh girl, I feel you. Adult birthday parties and elusive in the pinterest world: they don't come up much and there isn't the same amount of info for them as there are for kids birthday parties.
Sometimes, I wanna know that we can find a good list of ideas for adult parties too. Where did the creativity go?!?
That's why I spent the last week compiling this mega list of birthday party themes for adults that I think you're going to love. Let's just say, if you don't have a few good theme options in mind by the end of this post, then I don't think you finished reading it.
So, without further ado, here's my mega-awesome list of adult birthday party ideas, filled with GIFs because reading this much is no one's first choice…
Your Mega List of Adult Birthday Party Ideas
1: Murder Mystery Party
(Any of the following themes can be a murder mystery party, you just have to find the perfect script to go with it.) And this is the first adult birthday party idea on the list, obviously, because I love murder mystery parties. I talk so much more about finding the perfect script in the post I did a few weeks back all about throwing the perfect murder mystery party.
Murder mystery parties are seriously the most interesting party you will ever throw. They are all different, all interesting, and the guests always L-O-V-E them.
Don't know where to start? Oh girl, I feel you. It can be super confusing at the start. That's why I wrote the this post about planning your first murder mystery party. It'll tell you everything you need to know!
But trust me, you won't regret throwing a murder mystery party. I swear, okay?!?
2: Roaring 20's, Rocking 80's, Or Any Decade Really
Who doesn't love a good 90's party? Maybe it's because I grew up in the 90's, but I'm most partial to that decade party theme. But really, any of these would great party themes:
Roaring 20's
50's
Groovy 70's
Rocking 80's
Neon 90's
Turn of the century 2000's
Was it obvious that I didn't know how to describe the 50's?
*You can add "Prom" to the end of any of these and make it 100000000x more interesting by default.
Who doesn't love a good brunch?
I'll wait..
Need I say more? This is your perfect opportunity to throw that super cute brunch with the super yummy mimosa bar. So what are you waiting for?
And if you're looking for some good brunch ideas, check out this post I wrote about setting up the perfect mimosa bar for brunch!
A brunch would be the most perfect adult birthday party idea of all time. This one is for sure my favorite.
4: Amazing Race/Survivor/Reality Challenge Show Party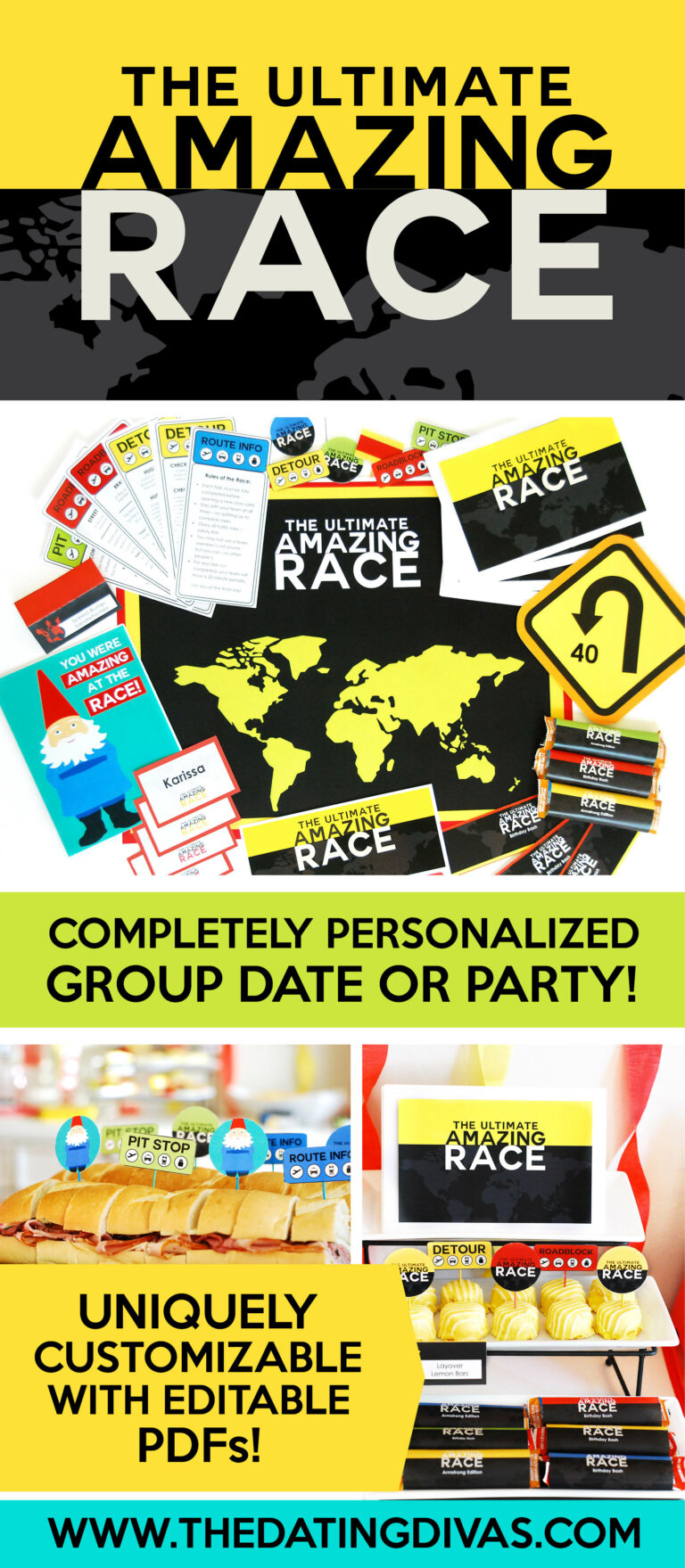 I actually hosted this Amazing Race Competition party once for some friends and I had a great time! I used all of the printables from the blog post linked above, and it was such a great time.
It's easy to find more printable stuff like this for challenges on pinterest, and if you're interested I highly recommend you look around there for some more ideas!
If you're looking for some more ideas:
Family Feud
Survivor
Jeopardy
Wheel of Fortune
Dancing with the Stars
5: TV Show Themes
Some ideas to spark that inspiration..
Friends
Walking Dead
Game of Thrones
Stranger Things
The Office
How I Met Your Mother
Bob's Burgers
Breaking Bad
It's Always Sunny
The Sopranos
Orange is the New Black
Freaks and Geeks
The Big Bang Theory
South Park
One Tree Hill
New Girl
6: Movie Themes
Some ideas to spark some inspiration..
Guardians of the Galaxy
Deadpool
Hunger Games
Lord of the Rings
Star Wars
Indiana Jones
Disney Princesses
Wizard of Oz
Harry Potter
7: Karaoke
Whether you set it up at home or find a karaoke bar to chill at for the night, a night of drunken embarrassment for the birthday gal/guy is always exactly what the doctor ordered.
8: *Insert Favorite Cuisine Here* Party
Sushi
Hispanic Food
Thai Food
BBQ
Pizza
*Rent a Food Truck for Extra Bonus Points
9: A "My Favorite Things" Party
The person you're considering, maybe they don't just have one thing they love or like to do. In that case, have a multiple thing-themed party.
You could have different snacks referencing different hobbies and loves of that person, have activities for people to do that correlate with those things, and more. The sky is the limit for this one!
10: *Insert Favorite Hobby of the Birthday Guy/Gal* Party
Craft Beer Tasting
Art Party – think wine and canvas at home vibes
Gourmet Coffee Tasting
Bourbon Tasting
Bowling
Wine Tasting
Fishing
Hunting
Crafting
Archery
Roller Skating
Golf
Glamping (Or just regular camping, but… Glamping though.)
Any Sport, like Football, Basketball, and Soccor
Any professional sports teams
11: A Unicorn Party?
Hey, unicorn parties don't only have to be for little girls who love rainbows. Got a very special adult who loves glitter, rainbows, and mystical creatures? Perfect! Unicorn party it is.
12: An Adult Slumber Party
Grab your best girlfriends and have a good, old-fashioned sleep over! You can fill the evening movies and popcorn, doing each others nails, or possibly a spa evening (more on that next). There's nothing like it.
*Bonus points if part of your birthday gift is a new set of pajamas.
13: Spa Party at Home
Grab some masks and get to work! There's nothing like pretending to be skin experts and giving each other facials. While you're at it, include some nail painting, steamed towels, and maybe braid each others hair.
14: Redneck Party
I would love to throw a redneck party. I've got all the ideas for this one already listed in my head, waiting for that perfect day to use this theme. It would be so funny and cute.
A list of adult birthday party ideas had to include this winner.
15: A Travel Theme (with or without a specific destination)
Paris, France
African Safari
South America Jungle
Las Vegas…
London
Egypt
16: Casino Royale
Each person starts off with the same amount of fake money, and the person who gambles to win the most fake money by the end of the night wins a prize!
17: Pool Party
Grab some pool floats and BBQ some burgers. Hopefully it's summer time near you!
18: Video Game Theme
You could just do a general, retro video game party or focus on a specific game, such as:
Legend of Zelda
World of Warcraft
League of Legends
Mario Party
Fallout
Assasin's Creed
Call of Duty
Pokemon
Pacman
Halo
19: Gaming Party
Set up a video game system and have a tournament, or set up table top games and have people play those all night. Or do both!
Have people play random board games all night or..
Have a Mario Party Tournament
Mario Kart Tournament
Call of Duty Tournament
Corn Hole Tournament
Dance Dance Revolution Tournament
20: *Insert their favorite holiday* Party
Chances are most people haven't experienced their favorite Holiday on their birthday. Got someone who's obsessed with Halloween? Throw them a Halloween party on their birthday. How fun would that be?!
Halloween
Christmas
4th of July
Thanksgiving
Mardi Gras
Easter
---
I hope this list of adult birthday party ideas gave you all the inspiration. If it did, could you do me a huge solid? Give it a pin on Pinterest so it'll find other people and help them too!
Thanks so much for stopping on by! Can't wait to chat with you again soon.